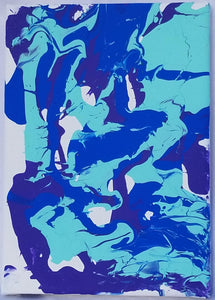 "Some say the world will end in fire... From what I've tasted of desire I hold with those who favor fire. But if it had to perish twice, I think I know enough of hate to say that, for destruction, ice is also great and would suffice." — Robert Frost

As you stare into this abstract painting, time will melt away. The cool-toned colors will invoke an icy chill, drawing you further into its depths.
This is a 5"x7" acrylic painting on 5/8" deep stretched canvas. 

Package will be shipped through USPS.